iNNOCENCE + eXPERIENCE Tour
You Are Rock and Roll!
The tour is now underway and, of course, Mattopia Jones is on the scene. Stay tuned for lots of photos, videos and stories of innocence and experience.
---
The Future Needs a
Big Kiss
And I'm all puckered out after an astounding 13 shows in eight terrific countries.
What a phenomenal tour! The madness and magic of 360 came to a triumphant close in Moncton, New Brunswick, on 30 July U2011.
Now it's time to put the wallet in the freezer and catch up on all the photos, videos, and journals.
Stay tuned - and continue to dream out loud, in high volume!
I Will Follow,
How 'bout You?
Follow Mattopia Jones on Twitter.
Snow Patrol
Snow Patrol's Shut Your Eyes
Zagreb, Croatia, 9 August U2009
Snow Patrol opened all eight of the European shows I saw in U2009-U2010.
The 360° Journal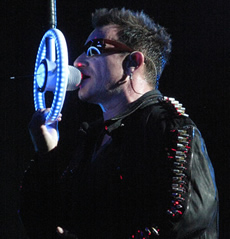 Bono in Istanbul
6 September U2010
Check out the 360° Journal, a work in progress.
---
From the Sky Down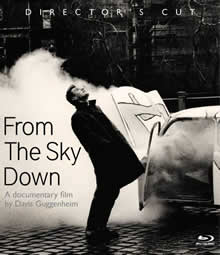 Davis Guggenheim's documentary about the making of
U2's Achtung Baby is now on Blu-ray
Ullevi Stadium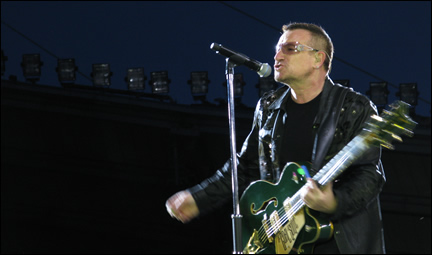 Gothenburg, Sweden, 1 August U2009
Photo: Matthew Anderson
---
I Will Follow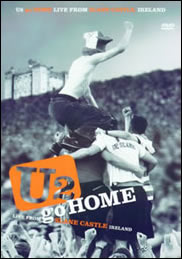 Everyone should have a rock band for a muse.
U2 took a quiet kid who graduated in a high school class of nine and fed his inner, malnourished soul and stirred his latent megalomania. (I was valedictorian, after all.)
And to think, once upon a time • in the "Dark Ages" • I thought Bono was a humorless asshole. Now I happily refer to him as my "mentor," my "sensei." And it amuses when I hear, on occasion, that so-and-so thinks I'm a humorless asshole. Those poor, misguided folks • as rare as they are • clearly haven't visited the PRM.
After a period of living the dull, gray life of an accountant, this band helped me regain my voice and I went back to my roots as a writer, as a creative-minded individual. They're the band that's provided the inspiration behind the madness that is my great life. It's all about dreaming out loud, in high volume.
---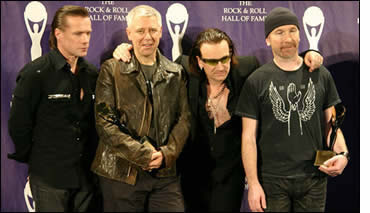 At left: Rock & Roll Hall of Fame Induction, New York City
Photo: Matthew Anderson
Down Time // Between Albums and Tours
• Movie Review: U2 3D
• Interview with Wim Wenders: When Bono Comes Knocking
• Interview with Wim Wenders: Don't Come Knocking
• Article: Induction into the Rock and Roll Hall of Fame
• Photo Gallery: Rock and Roll Hall of Fame Induction Ceremony
• Article: Get Ready for What's Next
• Article: Zoospeak: The U2 Dictionary
• Article: U2's Got Ya Covered
• Article: Crusaders of Rock
---

At right: San Sebastian, Spain
Photos: Matthew Anderson
How to Dismantle an Atomic Bomb // Vertigo Tour
• Travel Journal: Beer and Loafing in Zooropa
• Concert Review: Portland, 19 December U2005
• Concert Review: Denver, 20 April U2005
• Photo Gallery: Vertigo Tour
---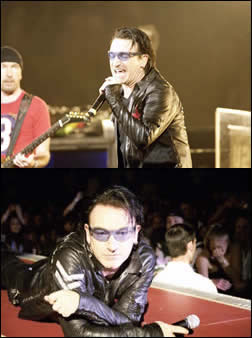 Montreal (top)
New Jersey (bottom)
Photos: Matthew Anderson
All That You Can't Leave Behind // Elevation Tour
• Travel Journal: Elevation Tour U2000-U2002: The Elevation Diary
• Photo Galleries: Elevation Tour
• DVD Review: U2 Go Home: Live from Slane Castle, Ireland
• Album Review: All That You Can't Leave Behind
• Article: ATYCLB Tops Best of 2000 Lists
• Article: My Experience at MTV's Total Request Live
• Article: Fans Critique Smuggled Songs
• Article: ATYCLB Snippets Found on 'Net*
• Global: *Check it out! MTV.com quoted this story!
• Global: *And VH1.com referenced this story!
• Article: Bono and Larry Discuss the 2001 Tour
• Article: Million Dollar Hotel Coming Stateside
• "Remix" Article: Double Duty Possible at Slane
• "Remix" Article: Bono and the Bubble Gum Bands
• "Remix" Article: U2 and the Corrs: Two Views of Napster
---
Red Rocks Revisited