Video shot on location in Vietnam and Myanmar.
All 4K video and audio was recorded using the Sony A6300.
I'd love to license U2's song Volcano as a background track: "Do you live here or is this a vacation?"
Photos and more are at mattopia.com/fates
Itinerary
Mattopia Jones and the Flames of the Fates: Director's Notes and Travelogue
Director's Notes and Travelogue
I'm a big fan of running commentaries on movies. I could listen to Coppola and Gilliam talk about filmmaking all day long. I wish Spielberg and Nolan would do commentary tracks!
This, then, is something of a mutt. A combination of director's notes and travel notes. It's a new format I've concocted for sharing some of my travel stories and I hope it'll make my online journaling a little more expedient after future trips.
Humor me while I reminisce.
Keep in mind how this trip came together. It was very much in the classic Indiana Jones "making it up as I go" tradition. At departure, all I had was roundtrip airfare to Bangkok and a few nights booked for the Lebua in Bangkok. And the other thing I knew was that I wanted to do a hot air balloon ride in Bagan, Myanmar. And, yeah, I had a visa for the Socialist Republic of Vietnam in my passport and a letter of approval for my entry into the Republic of the Union of Myanmar.
I started the trip jotting down more notes than usual, needing to put things into words instead of relying on photos as I have for the past several years. Then, as the trip progressed, so many cool things fell into place just right that I started thinking somebody should make a movie out of the trip. As it happens, I have a pretty good chunk of 4K footage to play with.
I spent quite a bit of time sifting through and selecting photos for the galleries. Really, they're still not done. Then there was the equally daunting task of sifting through those video files.
Even so, words are needed to fill the gaps. And, as the standard-issue title card from the Mattopian Ministry of the Moving Image announces, this is only a preview!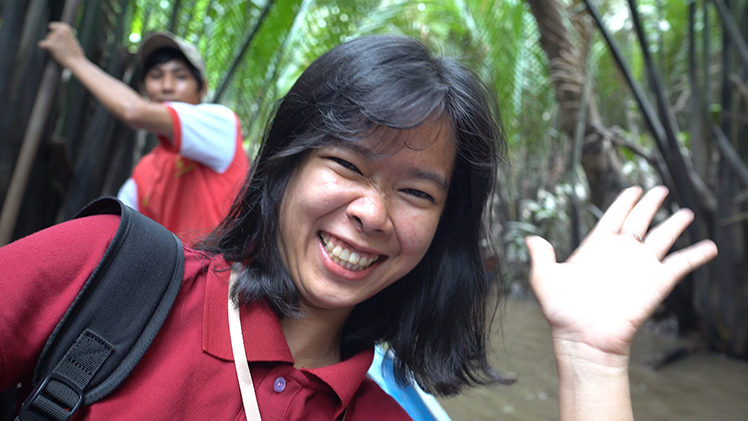 Start with a friendly smile. I knew when my tour guide through the Mekong Delta said, "Hi," I had to do something with that footage.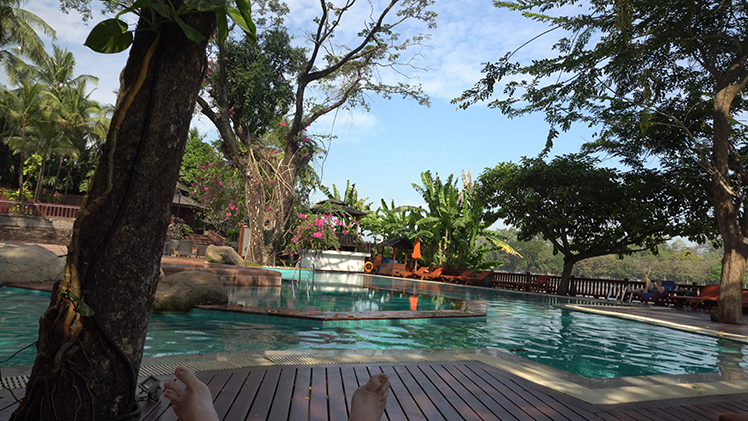 Yes, I linger a little too long on the sky shot, but... it's mood setting. This was shot at Kandawgyi Palace Hotel in Yangon. Another memory I have of that place is the incessant use of pop covers of holiday songs (this was in December, after all). There were maybe only a half-dozen or so songs that kept playing through the hotel's PA system. If I never, ever hear Mariah Carey's All I Want for Christmas Is You again, I think I'll be quite okay. But, aside from that, I loved the place. My room was great, bottles of Myanmar beer were at the ready and the people were absolutely, positively top-notch.
And, yes, those are my "hot" legs as the camera pans down on the pool scene.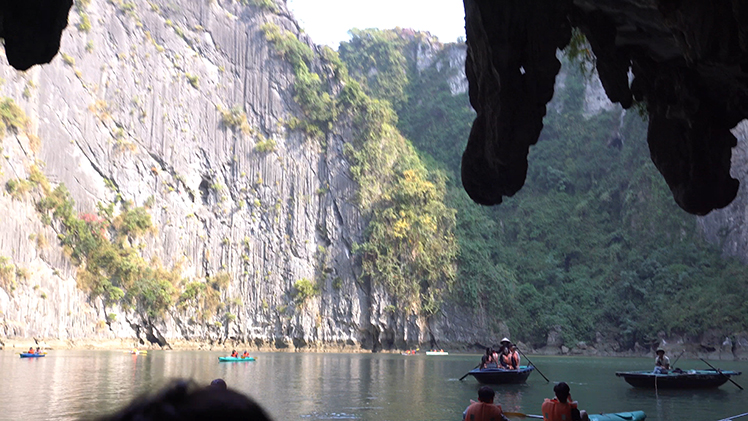 This was in Ha Long Bay, Vietnam. I had to reduce the wind noise quite a bit on this piece. Beautiful area.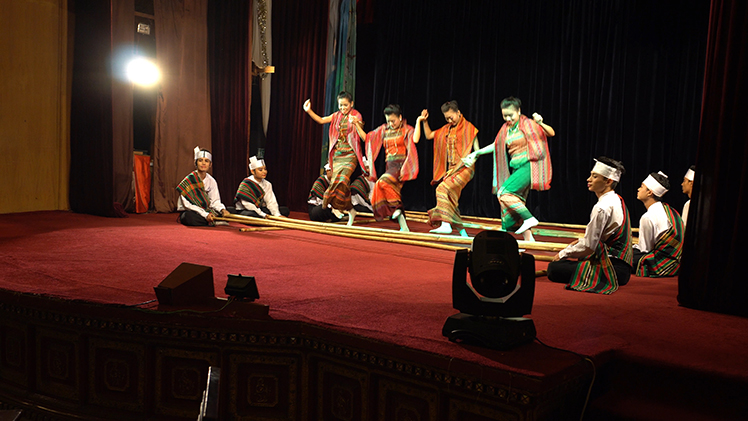 This was one of my favorite performances at Karaweik Palace in Yangon. Essentially a dinner theatre, the palace is considered a top destination. Situated between two long dining halls is a nice, large buffet area with darn good food. At the end of each dining area is a stage. So, they're able to cater to large crowds and have two performances going on at the same time.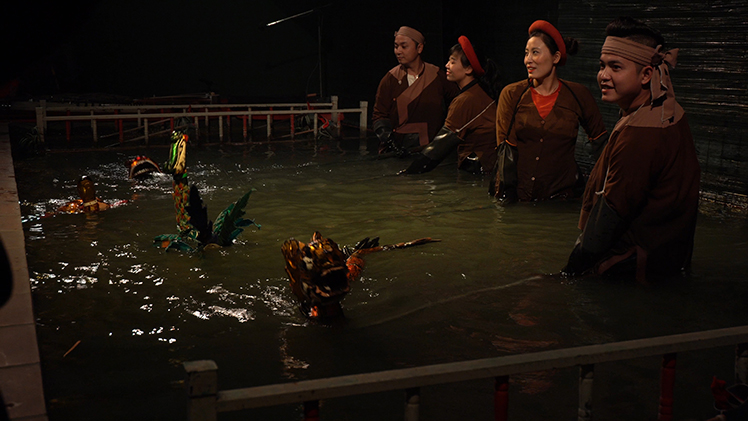 At the Thang Long Water Puppet Theatre in Hanoi. I basically crashed a tour group's party with this stage-side visit. Remember: Try.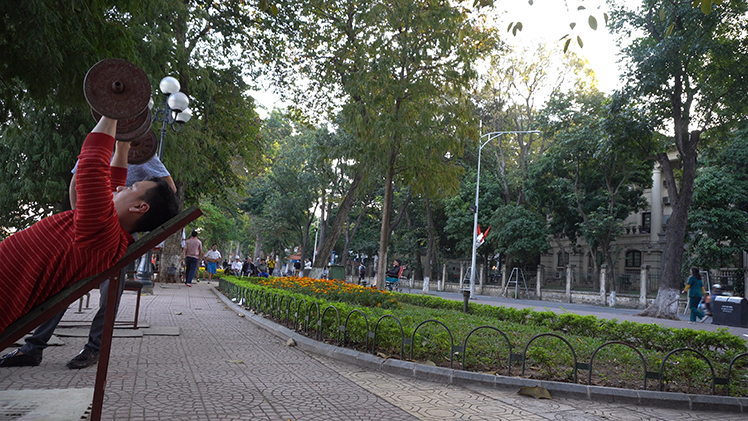 I love this clip because it's so quirky. It's cinema verite in a Manhattan by way of Hanoi sort of way. No sooner do I sit down than a girl approaches me and wants to practice English. She wants to work in the tourism industry and she had some sort of odd instructor who was teaching the class about some rather out of date expressions and figures of speech. For example, I had to explain fairly offbeat lingo like "bush league" and "streaker."
I love that this particular clip is about the word "retrieve." It makes me think of Indiana Jones and the Kingdom of the Crystal Skull: "Return." (Yeah. That's how I roll.) And, for that matter, I went out there and brought back these photos and videos.
Note the bruise on my elbow. That's from getting stuck in a hole in the ground in Cu Chi. There's also a scrape along almost my entire forearm that's a little harder to see.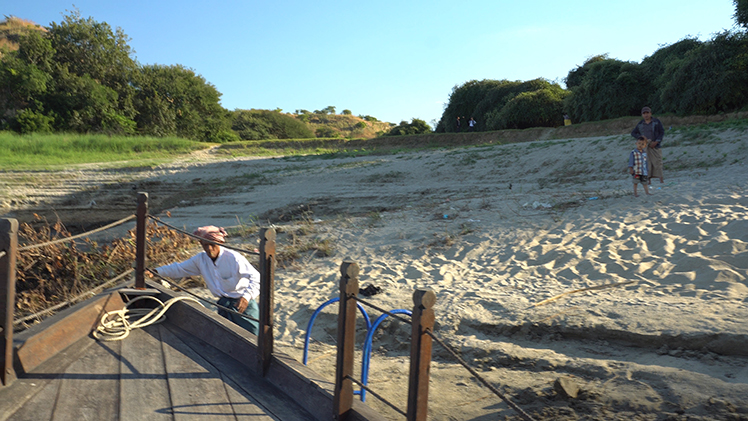 An awesome personal moment. Fantastic sunlight. Awesome deckhand. After I get off the boat, I feel a tap on my shoulder. Two teenage kids want their picture taken — with me.
After the landing came a nice jungle hike to a cave pagoda and a walk through the cave — tac light at the ready. The hike was then followed by a sunset cruise and a pleasant ride back to the jetty in Bagan.
The clip progression moves faster now.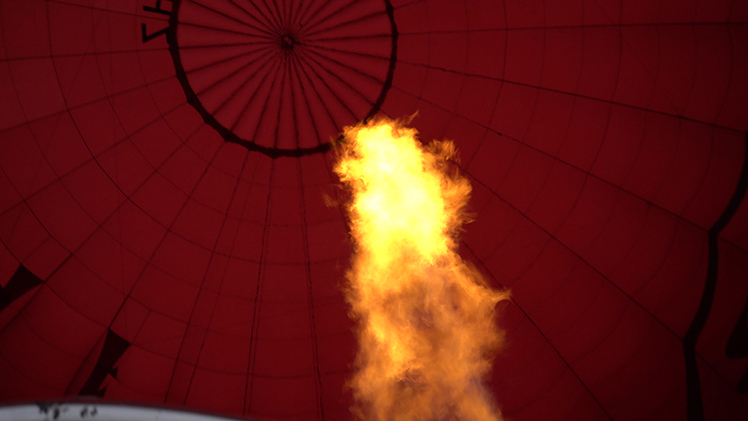 The hot air balloon ride over Bagan, Myanmar.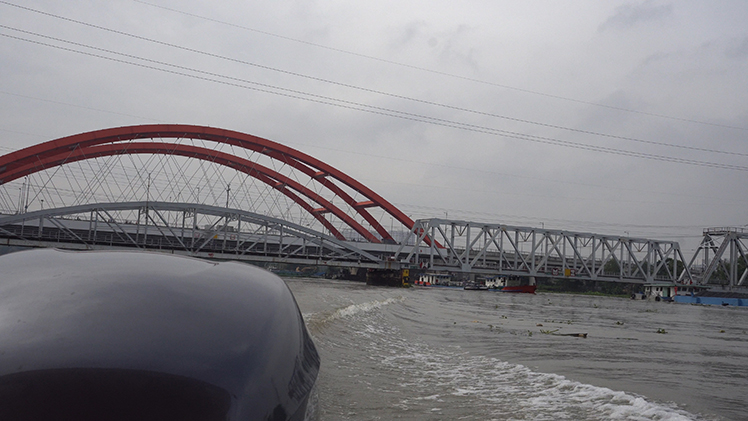 A speed boat ride to Cu Chi, Vietnam.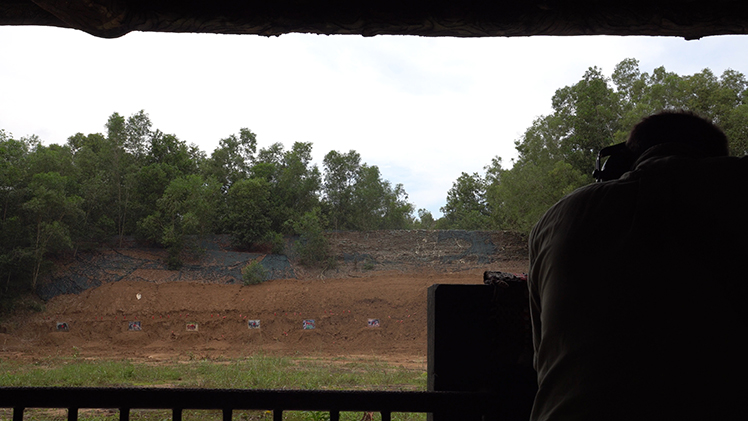 Yes. That's me firing an M16 at Cu Chi. I had absolutely no idea what the heck I was doing. The rooster crow was unbelievable timing, so this clip made the cut. I think I hit the target once out of 10 shots.
The camera? It was perched on a wall behind me. Amazing how it framed so well.
During this day trip, there was a humorous conversation with some British folks. It's true, not all Americans are pick-up driving rednecks toting guns and hugging pit bulls. I don't even have plants, let alone living animals of any sort. And I drive an awesome, built-to-order MINI Cooper S Hardtop.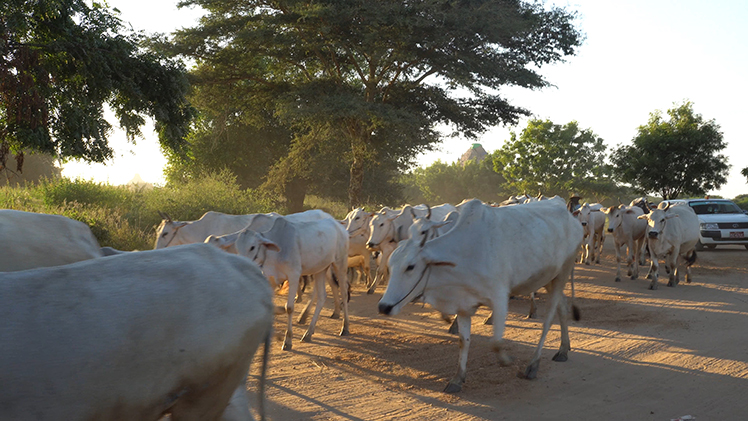 What can I say? All of a sudden I was surrounded by a herd of cows.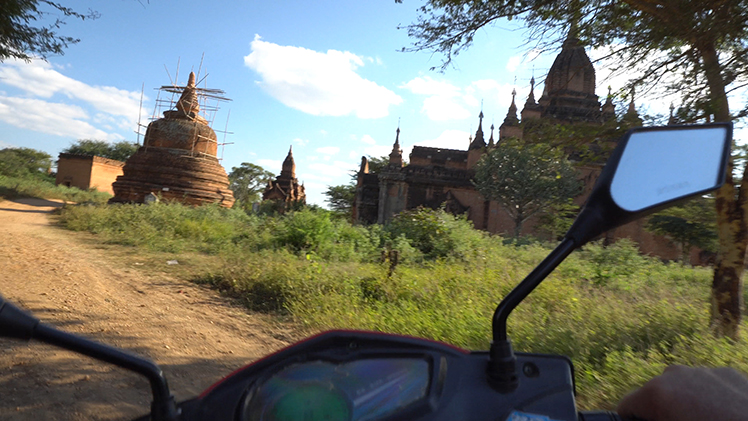 On an electric bike touring the temples of Bagan. You might hear a wee moan from me. Let me put it this way: after a day of riding that electric bike, my butt was sore. Really, really sore.
During the extended segment, there was another clip that cracked me up: I used the bike's turn signal in the middle of nowhere, letting (nonexistent) people know I was going to make a left turn. (Maybe I'm easily amused.)
I had the camera hanging from my neck — with the neck strap tied in a knot to shorten it up and give it a better perspective overlooking the bike's dashboard.
Also during this segment, I spotted personnel from the United Nations. I think they were surveying the work being done following a magnitude 6.8 earthquake that hit the area back in August.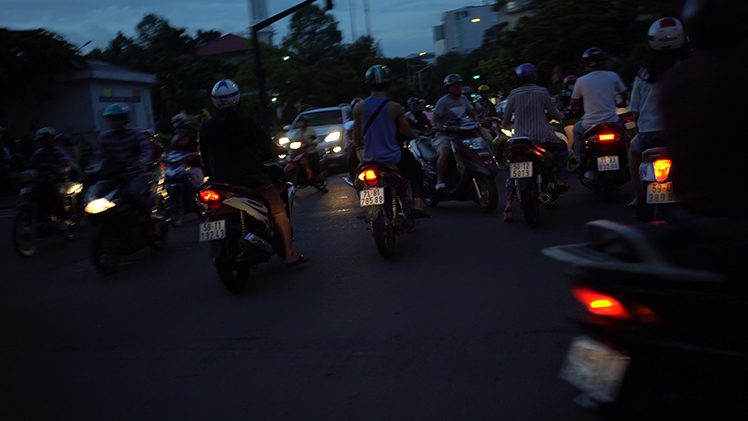 This was taken on a cyclo in Saigon. I have a couple photos of my cyclist in the Vietnam gallery. The man was fit and took me all over town and in the thick of some knotty traffic. Very cool.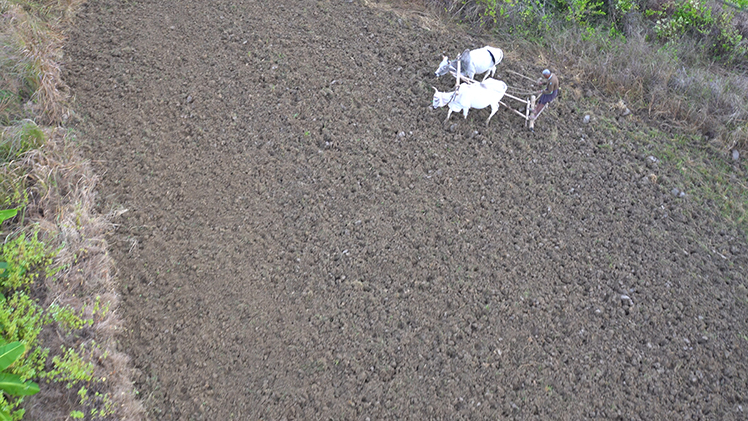 There were a lot of aerial shots to choose from, but I liked the sweep and action in this one. Might swap it out at some point.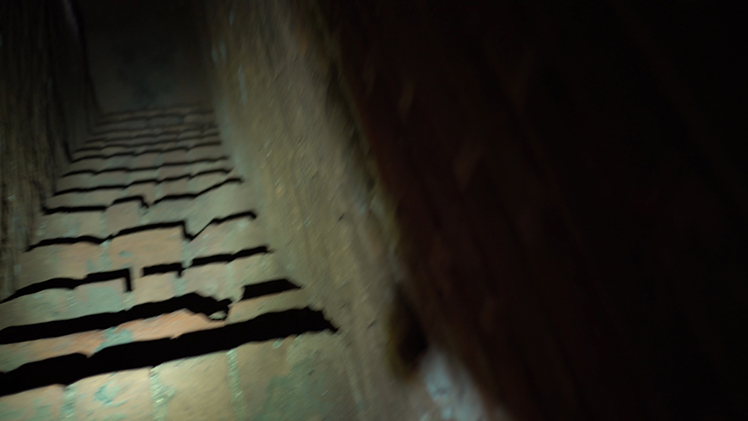 Yeah. That's another wee groan as I contemplate crouching and making my way down another tight set of steps — barefoot, with a tac light to guide me. There was absolutely nothing sinister going on, but I wanted to tease the build up to a situation that's essentially nonexistent with the following audio clip — that's the tour guide from the opening scene advising people to "be careful" while getting on the boat.
The music accompanying the logo is from a festival in Bagan.
This video came together quite quickly thanks to a solid MacBook Pro, a powerful (and tiny) PNY portable 480GB SSD drive, the exquisitely integrated components of Adobe Creative Cloud (Premiere Pro, Audition and Photoshop) and Vimeo. And another word of thanks to Sony for the miracle that is the mirrorless 4K A6300; it's a powerhouse in a compact form.