Music

Les Miserables
3 May 2006
Buell Theatre
Denver, Colorado, USA
I always say I consider going to a U2 concert my idea of going to church. A little less well known is that I feel the same way about Les Miserables.
Since the full Young Mattopia Jones Chronicles are still tucked away in the Mattsonian, awaiting translation from the original Mattskrit scribblings before formal publication, I'll take this opportunity for a quick recap.
The first show I ever saw on Broadway was The Phantom of the Opera. I was underwhelmed.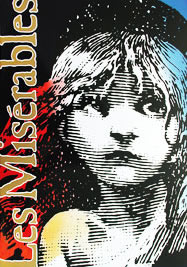 The very next weekend I saw my second Broadway show, Les Mis, at the Broadway Theatre (in its final weeks before moving to the Imperial in order to make way for Miss Saigon). It was a dark and stormy October night, to plunder that old cliche. It was a Friday night, October 12 to be even more precise, and I had a special student-rate ticket.
The show blew me away from the first note.
It turned out to be such a pivotal, awesome evening in my own personal history, I can still recollect so many moments surrounding that night and that show. Beforehand, I remember coming across the 3-CD complete symphonic recording at the Wiz and wondering what kind of freak would want to buy it; it was expensive and there was that Broadway cast recording right next to it, much cheaper.
I left the Broadway Theatre as one of those freaks and that very weekend I bought the deluxe set. And that set has since been downloaded, in its entirety, to my MP3 player.
During those original New York days, I even managed to enter the "inner sanctum" of the Broadway production.
For years afterward, a trip to New York was not complete without seeing Les Mis. And I'd go on to see the show in London, Edinburgh (which I still consider the most ultimate performance), Madrid, and Denver.
Now, the 8th (and allegedly final) Denver stop - at least for the "Marius Company" of the Les Mis tour - couldn't have come at a better time.
Seeing the show brought back so many fond memories of seeing it the first time. I was truly giddy to be at the Buell, excited to be back in good company. The current cast was uniformly excellent, especially Randal Keith as Valjean and Robert Hunt as Javert, but Joan Almedilla as Fantine, the first brunette Fantine I've encountered, was a little soft on the vocals.
This was also the first time I've seen the show since a couple minutes were added. If I've deduced correctly, they involve extended, racy lyrics in Lovely Ladies and a new scene wherein Valjean meets Cosette at the well.
Particularly goose bump-inducing were the following lyrics, which somehow resonated all the more with me in light of all the years and events I've been through since the first time I witnessed the story of Jean Valjean:
Drink with me to days gone by.
Can it be you fear to die?
Will the world remember you when you fall?
Could it be your death means nothing at all?
Is your life just one more lie?
Les Mis was one of the key sparks of my college career. Arguably, New York City itself was the first one, quickly followed by Les Mis. In the following year, the world's loudest folk band released Achtung Baby!, a pivotal rock 'n' roll album that kindled the imagination and ambition of this young lad to dream out loud, in high volume. And I would be remiss to leave out Billy Joel, who, during a magnificent New York Trilogy of concerts at Yankee Stadium, Giants Stadium, and Madison Square Garden, consistently advised me to not take any shit from anybody.
From there, things only kept getting more and more interesting, as can be gleaned by this tiny excerpt from the Young Mattopia Jones Chronicles.
Hopefully at some point this Web site will spark others to follow suit and dream up the kind of world they want to live in.
And with that, here are the final, life-affirming, invigorating, and inspiring lyrics of Les Miserables:

Will you join in our crusade
Who will be strong and stand with me?
Somewhere beyond the barricade
Is there a world you long to see?
Do you hear the people sing
Say, do you hear the distant drums?
It is the future that they bring
When tomorrow comes...
Tomorrow comes!