Music

Billy Joel and Elton John
Face 2 Face
22 February 2010
Pepsi Center
Denver, Colorado, USA
Prelude
First of all, kudos to TicketHorse and their Flash Seats electronic ticketing system. It worked like a charm; instead of showing up with a paper ticket, all I had to do was show up with the credit card used to purchase the ticket. They swipe the card and print out the seat assignment at any entrance. What was really, really cool about Flash Seats was how it totally befuddled the scalpers. While walking around the Pepsi Center, a number of them were waving their arms around in frustration as they talked to each other - and even Denver police - about how "weird" it was so many tickets were electronic, thereby putting a crimp on their inventory.
Anything that frustrates scalpers is A-OK in my book.
Another pleasant surprise was the acceptance of small cameras. Before leaving Matt Manor, I checked out Billy's retooled Web site and noticed the option for fans to share their photos from the shows. I took that as a sign to pack my favorite, trusty little camera just in case. Sure enough, large signs at the arena entrance made note that, at the tour's request, no professional cameras were allowed. Delighted to see that acknowledgment, I confirmed small cameras were okay, then hustled back to the Mattmobile for the camera.
BBB, Row 14, Seat 3
Originally scheduled for Nov. 22, 2009, when the postponement was announced it seemed to be in relation to Elton getting slammed by a flu bug. Shortly after, though, there were reports of Billy's daughter, Alexa Ray, having attempted suicide and some speculated the date change was tied to his family situation.
Whatever the case, Elton made no mention of it, but Billy did apologize for the date change and thanked everybody for shuffling things around on their calendar to make room. He also, being Billy Joel, thanked people in the upper level, far end ("Fort Collins," as he referred to it) for buying those seats. He hoped they got a discount.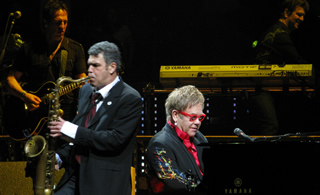 On sax: Mark Rivera. At the keyboard: Elton John.
There was virtually no chit-chat from Elton, aside from a "great to be in Denver" crowd acknowledgment. Although he did pull a surprise improv during the final duet, Piano Man, during which he sang "It's a pretty good crowd for a Monday." Billy answered with a raised eyebrow. And Elton often pointed out into various parts of the crowd and said "thank you."
Billy, though, was his usual lighthearted self. Some of the jokes were retreads from previous shows, such as the people sitting behind him getting "nothing but head." He was also comfortable joking about his age and appearance.
But the real jawdropper was when he started talking about having spent some time lately wondering if there was an age when rock stars are supposed to retire. The crowd, rightfully so, booed at the notion. But Billy was setting everybody up for one humdinger of a zinger. He went on to talk about The Who's recent Super Bowl appearance. After that, Billy joked, he realized there apparently was no set age for rocker retirement. (And the crowd cheered, naturally.)
Billy's right on both counts. There's no need for a rocker to retire at a specific age, unless, of course, they no longer feel the magic. And The Who sucked at the Super Bowl. Great staging, lame performance.
Face to Face
As for the talent at hand, both Billy and Elton still have "It." It's amazing how strong the vocals were for both superstars. And Mark Rivera, Billy's longtime sax player, is also in mighty good shape.
Even the staging on this iteration of the Face to Face tour seemed hip and high tech. The last time Billy was Denver, solo (February 2008), he didn't even have a jumbo screen whatsoever. He said, somewhat jokingly, that he was trying to keep ticket prices down. This time, though, the above-stage jumbo screen and lighting around the stage all seemed to have been devised after watching - and learning from - U2. There was terrific graphical use of the main jumbo screen, going beyond merely presenting the artists on stage, but using loads of imagery to embellish the song lyrics. Songs that particularly benefitted from the presentation were Candle in the Wind and Allentown.
Elton jumped up numerous times to take a bow and point out to fans in the audience, recalling the razzmatazz of the more flambouyant Elton John.
The same can't be said of the audience, which was all too eager to sit down. COME ON! You don't sit down in front of rock royalty! You don't sit down at ROCK CONCERTS period! This ain't the opera, folks.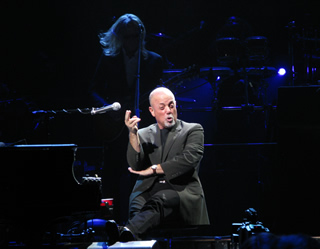 Billy takes a "smoke break" while Elton sings
It's not clear to me what exactly happened, but at one point early in Elton's set a group of people were unleashed and sent right in front of the stage - in front of front row. Perhaps they were plucked from the nosebleeds. But they were a welcome sight. And Elton and Billy both thanked them by shaking hands and signing autographs.
Ultimately, the rock stars won. Elton had to put in the most muscle, since he was the first to perform solo. Finally... with a slate of songs including Rocket Man, I'm Still Standing, and Crocodile Rock, he had the entire arena on their feet.
And Billy kept them there for the vast majority of his set. I was thrilled by how much attention he commanded from the audience. No doubt, his penchant for more free-wheeling audience interaction serves him well.
Among Billy's antics were pretending to vomit while Elton sang his part on Uptown Girl; he also pretended to smoke a cigarette while Elton took the spotlight. Then there was a funny little quip after She's Always a Woman to Me: "And then we got divorced." Oh yeah, and Billy also mugged it up as he pretended to struggle with his legendary harmonica brace. And there was also an incident with a big ol' pink bra thrown on stage. And... and... and... Billy's a national treasure in Mattopia.
His was the kind of playful performance that left a yearning for more, even after 3 1/4 hours of non-stop rockin'.
The Set List
Face to Face
Your Song
Just the Way You Are
Don't Let the Sun Go Down on Me
My Life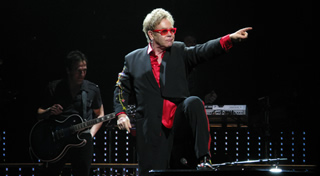 Elton John
is
Captain Fantastic
Elton John
Funeral for a Friend / Love Lies Bleeding
Saturday Night's Alright for Fighting
Levon
Madman Across the Water
Tiny Dancer
Goodbye Yellow Brick Road
Daniel
Rocket Man
Philadelphia Freedom
I'm Still Standing
Crocodile Rock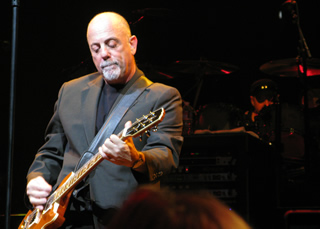 On guitar: Billy Joel. He didn't start the fire.
Billy Joel
Angry Young Man
Movin' Out
Allentown
Zanzibar
Don't Ask Me Why
Always a Woman to Me
Scenes from an Italian Restaurant
River of Dreams
We Didn't Start the Fire
It's Still Rock and Roll to Me
Only the Good Die Young

Face to Face
That's Why They Call it the Blues
Uptown Girl
The Bitch Is Back
You May Be Right
Bennie and the Jets
Candle in the Wind
Piano Man