Shop

Yellow Bricks
WALK ON!
A part of the yellow brick road to Mattopia can be yours.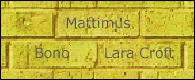 Have your name engraved on one of the yellow bricks that will be used to pave the beautiful circular entranceway to Mattopia.com's new home and take delight in knowing dignitaries from all over the world will be walking on your good name.
ACT NOW! There are only a finite number of bricks and they're going fast!
Those who join this elite club will receive a certificate suitable for framing.
Be a part of Mattopian history - buy a brick!
Phone 555.BUY.MATT for availability.