Music

Sunset Blvd.
2 October 2010
Arvada Center for the Arts and Humanities
Arvada, Colorado, USA
"It's amazing to find that so many people, who I thought really knew me, could have thought that
Sunset Blvd. was autobiographical. I've got nobody floating in my swimming pool."
- Gloria Swanson
Norma Desmond Moves to Arvada
Sunset Blvd. is my favorite Andrew Lloyd Webber musical. It's based on the classic, black-and-white 1950 movie starring Gloria Swanson, but Webber makes it his own with a stronger production than another of his adaptations, the one involving the Paris opera. There's something timeless about this story of a woman living in her own, glorious past, and Webber provides, arguably, his best and most interesting music, for a cast of quirky and tormented, yet sympathetic, characters.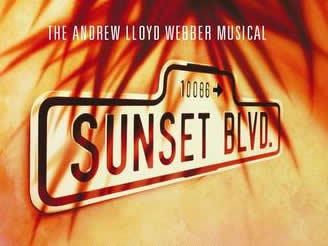 Thanks to a surprisingly abbreviated run, I've seen Sunset Blvd. only twice. Once in London and once in Denver (the starting point for the national tour). I have a lot of fond memories of that London show, starring Patti LuPone and Kevin Anderson. I was working as a fax boy at a corporate law firm right down by St. Paul's Cathedral and one evening, after work, I walked along the Thames and was in the mood for a show. Sunset Blvd. was in previews at the Adelphi, so I stopped by to see what was available at the last minute. I had two options. One seat was a nosebleed, so I opted for the seat that was closer in.
To my amazement, I watched as Andrew Lloyd Webber himself was whisked in and sat only two rows directly in front of me (those days are affectionately referred to as The Young Mattopia Jones Chronicles for a reason). But that added bit of celebrity alone didn't make the show itself standout. After all, I was non-plussed the first time I saw The Phantom of the Opera on Broadway, which was also my very first Broadway musical. And, while I was thrilled to see Sarah Brightman in a special engagement of Aspects of Love on Broadway, the show itself didn't do much for me.
Sunset Blvd. was something special. It was LuPone's stellar take on Norma Desmond. It was the opulence of the production. It was the seductiveness of the music.
I was taken aback when both the London and Broadway productions were abruptly closed still in the infancy of their runs. To this day, I don't understand why Sunset Blvd. is categorized as an also-ran in the Webber canon.
Given that short run, I don't have the same familiarity with the staging as I do with other productions, so some of my recollections might be off base.
10086 Sunset Blvd.
Nonetheless, with all that rambling as a prelude, I must say I thoroughly enjoyed Arvada Center's production. This marks the third year in a row I've commemorated the winding down of lawn-mowing season at my parents' house with a show at the Arvada Center. And this follows two equally impressive productions that also top the list of my favorites: Les Miserables and Miss Saigon. Another favorite, Cabaret, will hit the Arvada Center in the spring, perhaps to coincide with the start of lawn-mowing season.
It's amazing what director Rod A. Lansberry has been able to pull in the relatively small confines of the Center. And in this case especially, the production is clunk-free. That this is reportedly only the second regional production of Sunset Blvd., on the heels of this past summer's production at Olgunquit Playhous in Maine, with Stefanie Powers as Norma, makes it all the more sweeter success for Lansberry.
The show starts with a wowser. The Paramount Pictures and Sunset Blvd. title cards from the original movie are projected on a screen, then the show's logo transitions to a cloudy, fluid scene that turns out to be an aerial view of a pool's aquatic motions.
A corpse is lowered, suspended above the stage to look as if it's floating in the screened pool.
It's an awesome start, a cool effect. If I'm not mistaken, the original production started with the body on a stretcher. But this is one case where the limited run of the original staging – and the subsequent decade or so of dark – might fail my memory.
Shortly thereafter, when Joe Gillis makes a getaway from the repo men, Lansberry pulls off a clever car chase involving car pieces that look like the type of setup placed in front of a blue screen back in the olden days of the movies. There's also a distinct bumper car feel, but it works. Later on, a mock Rolls Royce takes the stage and further proves there are ways to replicate the grandiosity of Broadway on a much smaller scale.
This production also nails Norma's mansion with a terrific living room set that also allows for Norma's grand entrance at the beginning, and heartbreaking fade-to-black at the end. The details are there, right down to classic photos, including Valentino, on a table.
Love Changes Everything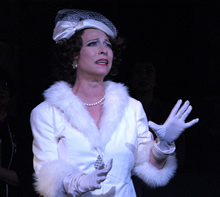 Ann Crumb as Norma Desmond
Photo: Arvada Center
Matching the terrific set design is a fantastic cast, something that is now fully expected from the Arvada Center.
Ann Crumb as Norma and Kevin Earley as Joe is a terrific combination. Both have great voices and range, both fill their roles extremely well. Earlier I mentioned Aspects of Love. Crumb actually originated the role of Rose Vibert in that show, the same role Brightman later performed. It's a small world after all.
Really, there are no weak links in this cast.
Jenny Gelwick is a lovely woman with a gorgeous voice that perfectly suits the character of Betty Schaefer, the studio assistant who enters a creative collaboration with Joe, and Stephen Day warms to the role of Max Van Mayerling, Norma's first husband and one-time director with promise.
Even the smaller roles, like Cecil B. DeMille and a whole bevy of Hollywood ingenues, are filled with talent for the dramatic and the musical.
Mad About the Boy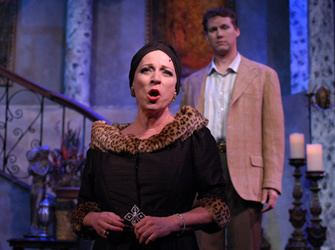 Norma (Ann Crumb) and Joe (Kevin Earley)
Photo: Arvada Center
The quibbles to be had with this production relate to the music itself and a story element that might well be outside the production's control. It'd also be good to tell the conductor, David Nehls, to tone down his post-show chatter with the musicians. He quipped, quite loudly, about doing the show once more before getting a break (the show is dark Mondays) and being able to stop counting in fours. It wasn't particularly offensive, just obnoxious and discourteous to the audience.
In regard to the music, I do take issue with the sped up rendition of With One Look. It's my favorite song in the show and it should've been slowed down a tad, and given some more bass and crescendo. As for the story element, it doesn't feel right when Joe dumps Betty and then turns right around and dumps Norma as well. Sure, he's fed up and ready to move back to Dayton, Ohio, but there's something odd about how this piece of the story comes across.
It's a little jarring, but it doesn't dampen the enjoyment of the show.
As mentioned already, what makes it so engaging is the seductive music. There's Norma's grand, sweeping theme. With One Look is an all-time great, theatrical song. The Perfect Year is buoyed by a nice string trio on stage while Norma attempts to entangle Joe in her web.
And This Time Next Year is another one of the show's outstanding songs. It's about struggling screenwriters and actors hoping to make big in the coming year. You don't have to be in those specific occupations to appreciate the sentiments.