Music

Love Never Dies
Deluxe Edition CD/DVD
He's baaa-ack.
It's 1907, roughly 10 years after the events of The Phantom of the Opera. The Phantom's been smuggled out of Paris and now calls the freak shows of Coney Island home.
It's the grand old Coney Island, shining in its hey day of new-fangled electricity and the wonders of the new modern age. Sadly, 100 years later, the current Coney Island is barely a shadow of its former glory.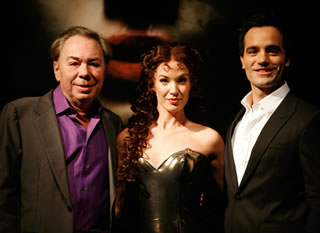 Andrew Lloyd Webber with Sierra Boggess (Christine Daae) and
Ramin Karimloo (The Phantom)
Photo: LoveNeverDies.com
The 40-minute DVD (presented in 1.78:1) included in the Deluxe Edition complete recording of Love Never Dies helps set the stage and the mood for Andrew Lloyd Webber's new show. At first blush, the concept of setting this sequel in New York seems silly, but the DVD, which covers everything from the initial concept to the London "launch event" last fall, does a good job of explaining the rationale behind the move and shows, via archival footage, how terrific Coney Island was at the turn of the 20th century.
And Andrew Lloyd Webber's team makes it clear Webber's back with a big, sweeping musical with grand themes. They're not shy about taking a dig or two at the recent spate of jukebox musicals, those theatrical productions based around a collection of rock/pop/country songs loosely tied together with some sort of love story or other gimmick.
As for Webber himself, where's he been? Well, he's certainly been busy. There've been many shows in the past 20 years or so, but with much less familiar titles. Shows like Whistle Down the Wind, The Beautiful Game, and The Woman in White. Never heard of them? How about Bombay Dreams? That one was a modest success, but none of them matched the likes of Jesus Christ Superstar, Cats, Starlight Express, or, of course, Phantom.
Webber seems to have been suffering from the same success fatigue that's troubled Boublil and Schonberg, who, after the huge back-to-back successes of Les Miserables and Miss Saigon, have found challenges in launching successful productions of Martin Guerre and The Pirate Queen.
Love Never Dies opened 9 March 2010 at the Adelphi in London, where, back in 1993, Sunset Blvd. played and Andrew Lloyd Webber sat merely a couple rows in front of this writer during a preview performance. It's set to debut on Broadway this fall. It could be a gargantuan, unprecedented season for live musicals if Bono and The Edge's Spider-Man: Turn Off the Dark can get the funding together to finally light up the stage this fall as well. Creative extravagance is finally making a comeback in the not-so-new millennium.
After a couple listens to the cast recording, it seems safe to say Andrew Lloyd Webber is big. It's the musicals that got small. It's been a while since there's been a great, big-scale production with big emotions and Love Never Dies seems to have cured that drought.
There are number of songs and themes that stand out:

Coney Island Waltz
'Til I Hear You Sing
Are You Ready to Begin?
Look with Your Heart (a classic, beautiful song)
Beneath a Moonless Sky
The Beauty Underneath (rock-tinged, consider this one the equivalent of the title song to The Phantom of the Opera)
Once Upon Another Time
Love Never Dies
Webber's sprinkled the new show with some familiar musical cues from the original Phantom, which is particularly goosebump-inducing during Before the Performance.
Webber took quite a gamble completing this long-simmering project, having kicked the idea around for some 20 years. Given Phantom's legendary status, a sequel seemed so unnecessary and ripe for failure. But, based on those first couple listens, it sounds like he's got a new winner and live theatre should be big, bold fun again in New York this fall.