Music

Emmy Rossum: From the Big Screen to the Music Studio
12 September 2007
Once upon a time it was something of a joke for an actor or actress to have enough hubris to actually go into the music studio and record an album. Things only got worse when the album was given the light of day, sometimes to an unintentionally legendary effect. Anybody care for a spin of William Shatner's The Transformed Man?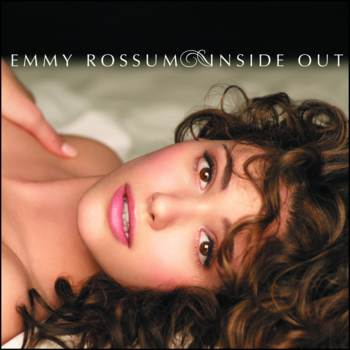 EP cover: Geffen Records
I didn't think so.
Well, now it's more common for artists to seek crossover appeal and making the leap from TV to the big screen or from movies to pop music doesn't carry quite the same skepticism it did in the days of yore.
Russell Crowe rocks it out with various incarnations of his band between movies. Billy Bob Thornton throws in the occasional bluesy tour between acting gigs. Mandy Moore's been hop-scotching between singing and acting with at least fairly respectable results.
Heck, even Bono's got a cameo in the upcoming Julie Taymor Beatles flick, Across the Universe. OK. That's a bit different. Bono and a Beatles-inspired movie go together like peanut butter and jelly.
Of course, there are also the train wrecks and perpetual press magnets, such as Britney Spears, Paris Hilton, and Lindsay Lohan, who, in the process of creating entire cottage industries out of their lives, dabble in movies, music, and much more dubious pursuits.
All of that leads to the latest entry in the crossover sweepstakes, Emmy Rossum.
Perhaps you don't recognize the name, but you'd probably recognize the adorable face. She's the young star of the movie version of Andrew Lloyd Webber's The Phantom of the Opera. She has also appeared in the high-profile movies Mystic River, The Day After Tomorrow, and Poseidon.
That gig with the Phantom made the announcement of Emmy's foray into pop music a pleasant surprise rather than a forehead-smacking "oh no."
The results so far are also pleasantly surprising. Three songs from her forthcoming album are now available on iTunes and they serve as a tease of an album that promises more along the lines of Enya or Sarah Brightman than Britney or Paris.
Even more impressive, Emmy not only supplies the vocal pipes, she also shares songwriting credits. Who does she share them with? Stuart Brawley (he's collaborated with Don Henley and NSync) and Bridget Benenate (she's written with Alice Cooper and Kelly Clarkson sings her song Breakaway).
On screen, Rossum carries herself with a considerable amount of grace. That same quality, so evident in her performance as Christine, the chorus girl and dancer who became the Phantom's infatuation, is also on tap in her new musical dalliance.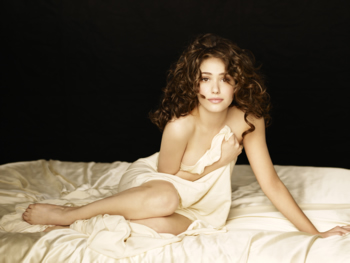 Emmy Rossum gets
Inside Out
:
From movie screen to recording studio
Photo: Geffen Records
Fittingly, the songs feel theatrical as well as pretty poppy and peppy. They're a nice change of pace and they reflect more artistic ambitions than the typical debut by a movie star turned pop singer.
In Falling, which features the most aggressive vocal range of the set, and Stay, Emmy sings about the intoxicating, disorienting frenzy of love. They're the kind of fun, catchy, smooth pop songs that grow more enjoyable and agreeable with repeat listenings.
Over all, the songs feature the same kind of atmospheric, echoing backing vocals and new-age style ambience akin to an Enya tune. Given that, the songs at times sound a bit over-produced, which is a particular shame considering Emmy has a proven, solid voice. Nonetheless, there's nothing to be ashamed of here.
In fact, perhaps the most refreshing thing about these songs is how they lack the "true confessions of a pop diva" subject matter that is so in vogue today. Reading about pop and rock stars in magazines is one thing, listening to them sing about their luxurious lifestyles is boring.
The best songs certainly derive from personal experience, but they don't feel exclusive to the singer or the writer. The ability to identify with the artist through shared, common experiences is what makes music such a powerful medium.
That's what can be found here. While Falling and Stay skew toward the romantic side, in Slow Me Down Emmy sings about the frantic pace experienced by many on a daily basis:

"My head and my heart are colliding - chaotic
Pace of the world – I just wish I could stop it
Try to appear like I've got it together
I'm falling apart
Save me
Somebody take my hand
And lead me"
Newly-turned 21, Emmy's already managed to work with some of the biggest names in the business without falling into the "big ego" trap, or she's at the very least managed to steer clear of the scandal sheets. Fingers are crossed that she won't slow down and, more importantly, won't fall apart.
An official release date for Emmy's full album has not yet been set.
• Also published on Interference.com.