Movies
Alice in Wonderland (2010)
Directed by Tim Burton
Rated PG
Alice in Wonderland is Tim Burton's most visually ambitious movie to date. The fanciful director of Batman, Big Fish, and Sweeney Todd has done outdone himself.
Late for Another Date
First things first.
Burton's Alice in Wonderland is not a live-action remake of the 1951 Disney classic. Nor is it an adaptation of Lewis Carroll's books. It's essentially an original follow up written by Linda Woolverton, herself no stranger to Disney's historic animation catalog, with Beauty and the Beast, The Lion King, and Mulan among her credits.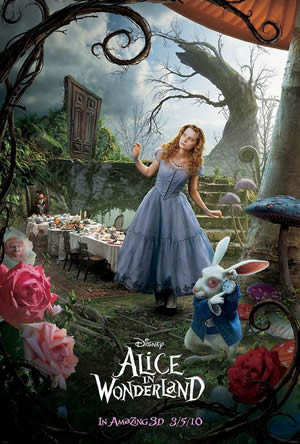 Even with that pedigree, there's no doubt this fairly dark tale will irritate some purists who deem Disney's take from nearly 60 years ago as the penultimate in storytelling.
Very much in the absurdist, fantastical vein of Carroll's 140-year-old source material, this new, high-tech fractured fairy tale also offers a solid message underlying all the eye candy. It is, ultimately, about a girl finding – and being – herself. And there are loads upon loads upon loads of eye candy in this potpourri of eye-popping pleasures.
Six Impossible Things and Then Some
From the outset it's clear Burton cast the right girl for Alice. Mia Wasikowska (Amelia) brings the 19-year-old Alice to life; she's a little rebellious and certainly not one to do things just because society says that's how things should be done. Just who in the upper classes dictated that corsets were "proper attire" anyway? And does she really have to marry the much-too-prissy Lord Hamish?
The bigger problem is Alice, a perpetual dreamer, continues to be haunted by nightmares of blue caterpillars, talking bunnies, and mad hatters. The same dreams she had 13 years earlier, when she first visited Wonderland. She's also still a bit downcast following the death of her father, a man she revered, a man who didn't waste his time thinking small.
As a child, her father reassured her following her nightmares that she has indeed "gone around the bend." She's mad, bonkers, off her head. Like all the best people.
In need of escape after hearing Lord Hamish's proposal, Alice finds herself goaded on by a pocket watch-carrying bunny and down the hole she goes again. Once back in her old stomping grounds, her identity is questioned by Absolem, the hookah-smoking caterpillar (Alan Rickman, Severus Snape in the Harry Potter series). Is she the right Alice? She's certainly not the same Alice they met 13 years earlier.
Alice in Wonderland covers some familiar action turf; amid her own identity crisis, Alice is thrust into the middle of sibling rivalry taken to a whole new level. Alice must slay the Red Queen's pet Jabberwocky in order to restore the White Queen's rule and free the people of Underland (the naïve, younger Alice kept misnaming it as Wonderland).
Curioser and Curioser
Putting Lewis Carroll's characters in Tim Burton's hands is like giving Pop Rocks and soda to a five-year-old.
In Burton's vision, the Red Queen (Helena Bonham Carter, Bellatrix Lestrange in the Harry Potter series) is burdened with a "regrettably large head," surrounds herself with others displaying grossly exaggerated body parts, and rests her sore ankles on the belly of a pig. She questions whether it's better to be loved or be feared. As for the White Queen (Anne Hathaway, Get Smart), it's against her code to harm a fly and she moves with all the overdone gracefulness expected of royalty with nothing to do other than look royal.
The juiciest character, though, arrives in the form of Johnny Depp (Finding Neverland) as the Mad Hatter, who sports a shock of Scottish-red hair, has large, wide eyes that never seem to blink, and carries with him the creepiness of a happy haberdasher whose haber's been severely dashed. Even he, though, recognizes that poor Alice has lost her "muchness."
Burton's clearly in his comfort zone as he revels in the bizarreness of it all. And he's also surrounded himself with a cast he's worked with before, including Depp (a seven-time collaborator, with Dark Shadows next on their horizon), Carter (five-time collaborator, significant other, and producer of Burton's children), Michael Gough (Alfred in Burton's two Batman movies), as well as Timothy Spall and Alan Rickman returning from the Sweeney Todd cast.
Three Amazing Dimensions
For a director whose early work included the black-and-white short Frankenweenie, then heavily leveraged stop-motion animation in goofy, original movies like Pee-Wee's Big Adventure and Beetlejuice, Burton has risen up to the top ranks of truly visionary directors. Many grouse about his storytelling sensibilities, but there's simply no denying a Tim Burton movie is a unique and visually-exciting work of art.
Alice in Wonderland is no exception. Burton plumbs his boundless imagination and fills the screen with a smorgasbord of ideas and gorgeous imagery.
And he also proves how effective the medium of 3D can be. Leaving eye-gouging imagery to less creative types, Burton selectively uses the 3D to fill the auditorium with Absolem's smoke or that ever-levitating cat with the Cheshire grin. What really impresses about the 3D effects is the incredible sense of depth. Wonderland is fully realized as a three-dimensional world, a sensation perfectly suited for Alice's tumble down the rabbit hole.
Post-Release Note: Burton's preference was to film in 2D and then convert Alice in Wonderland to RealD 3D.
• Originally published at MovieHabit.com.