Movies
The Adventures of Young Indiana Jones Volume Two: The War Years (DVD)
Not Rated
The War Years further proves The Young Indiana Jones Chronicles was a TV series unlike any other. During the course of this 9-disc set, the series offers up high drama from the front lines of Verdun and the Somme but also manages to switch gears with absurdist,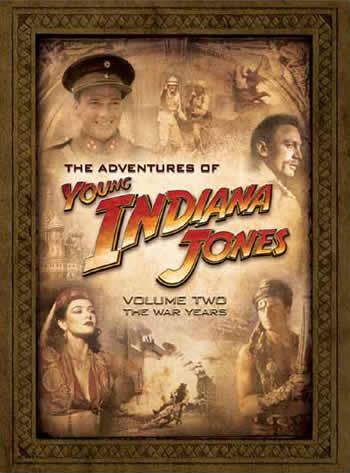 screwball comedy from Barcelona and Prague.
Once again, George Lucas presents a tremendous mix of adventurous fiction and enlightening history, this time with documentaries covering major historical figures including Albert Schweitzer, Mata Hari, and Vladimir Lenin. Oh. And, back on the fictional side, Catherine Zeta Jones does a little belly dance.
No Man's Land
Volume Two starts at the Somme with Corporal Henri Defense (Indy's nom de guerre picked up toward the end of Volume One and inspired by a "no smoking" sign in the Belgian army's recruiting office). From the nasty, brutal front lines of war, Indy is thrown into a highly-fortified German prison. Among the inmates is Charles de Gaulle, with whom he escapes from the inescapable before heading south to experience the more "genteel" approach to combat in Africa.
While there, Indy encounters Paul von Lettow-Vorbeck and Jan Smuts. Their real life stories as both combatants and gentlemen, as explained in the set's accompanying documentaries, offer an incredible look at the humanity of these warriors. Indy also meets with Albert Schweitzer, providing the young explorer with a new take on the value of life before heading back into the European darkness of war and the gun sights of Manfred von Richtofen, better known as the Red Baron.
Transferring from the front lines to the French Secret Service, Indy moves on to Russia in time to witness the early rumblings of the Russian Revolution under Lenin.
After that, things lighten up considerably when Indy's spying mission requires his joining the Ballets Russes while in Barcelona for some goofy undercover work as a member of the tu-tu brigade (an episode, it must be noted, directed by Monty Python's Terry Jones).
All of that leads up to a most curious episode in Prague. Seemingly taking a cue from Monty Python (particularly Terry Gilliam – and more specifically Gilliam's Brazil), poor Indy is put through the wringer in perhaps his most challenging mission: to report a stolen telephone and get a new phone installed in his room in time to receive a call detailing his next mission. The fate of the civilized world depends upon it.
Amadeus Schubelgruber and the Ministry of Telephones
That episode in Prague virtually sums up the entire Young Indiana Jones series so very well. It's a tour de force of farce and history. What is up with that French Colonel Clouseau giving Indy his new codename of Amadeus Schubelgruber? Why is Indy's "cover" that of a ladies' underwear salesman? What is all that nonsense about forms? Why all that bureaucracy as he gets jerked around from one office to another? It's an episode unlike any other.
After constantly getting the run around, young Indy, self-described as "incandescent with rage," barges in on one more office and one more man behind a desk and vents his frustration. Calm, cool, and collected, the man listens intently and apologizes for the inconveniences Indy has experienced. But, unfortunately, Indy's talking to the wrong chap. He's simply an investigator of industrial accidents. He goes by the name of Kafka. Franz Kafka.
Ah! What a terrific piece of smart – smart – television! The episode, the second half of Espionage Escapades on Disc 7, is a clever, deft melding of history and fiction within fiction.
The historical details no doubt were lost on many during the series' initial run. And that's precisely why this DVD set is all the more valuable and the years of waiting worthwhile. Now, thanks to Lucas' extraordinarily comprehensive assembly of documentaries, a nutty episode like that also gets accompanied by supporting documentation about Franz Kafka that sheds light on what Indy was put through.
Trust Him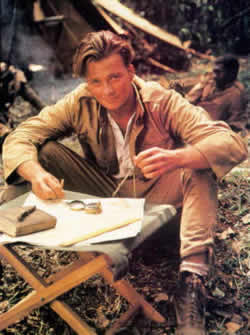 As usual, everybody's lost but Indy.
Photo: Lucasfilm Ltd.
As should reasonably be expected, amidst the adventures and the history, the character of Henry Jones, Jr., better known as Indiana Jones, slowly develops the foundation of experience that would inform the older, wiser Dr. Jones. At one point, Indy poo-poos the idea of "making it up as you go," brushing it off as lame advice. But, as the action and stakes escalate, he has no choice except to improvise. As events are thrown at him, Indy's appreciation for pragmatism and disdain for bureaucracy grow.
It's also amusing to see how young Indy's early romantic adventures go so sour so fast, shedding light on the archaeologist's inability to settle down and raise nine kids like his friend Sallah. In Volume Two, the biggest love affair involves none other than Mata Hari in what is easily the raciest episode of the series. When Indy falls for a woman, he falls hard and fast, quickly becoming obsessive over that most elusive of all the treasures he seeks: true love. The tide of history rips Indy out of those romantic situations and colors his perceptions of sex, love, commitment, and, yes, trust.
In short, this is one terrific collection assembled by a crew of familiar names in the George Lucas universe, including directors Ben Burtt and Vic Armstrong. Other directors include the previously mentioned Terry Jones as well as Simon Wincer and Nicolas Roeg.
Among the writers are Carrie Fisher (yes, Princess Leia) and Frank Darabont (whose script for Indiana Jones IV was turned down by Lucas). And familiar faces in the cast include Ian McDiarmid (the Emperor), Catherine Zeta-Jones, Daniel Craig (pre-James Bond), Paul Freeman (Belloq in Raiders of the Lost Ark), Freddie Jones, Christopher Lee (Count Dooku in Revenge of the Sith), Terry Jones (in the same Barcelona episode he directs), and Timothy Spall.
DVD Extras
This time around it can be said there is one disappointment regarding the supplements. The documentary on Disc 8 entitled Colonel Lawrence's War – T.E. Lawrence and Arabia is a repeat of the same documentary on Volume One, Disc 1. The documentary is good, but it doesn't say everything that can be said about Lawrence and a second, follow-up documentary would have better served the set. At least the new, complementary documentary on Disc 8, Lines in the Sand – The Middle East and the Great War, nicely fleshes out the events of the young Indy adventure entitled Daredevils of the Desert. It also touches on, at a very high level, the boundary lines drawn following World Wars I and II that are still the cause of violence today.
That Lawrence gripe aside, there's still something on the order of 13 ½ hours of new documentaries and another capstone lecture from H.W. Brands. That voluminous content at least puts the Lawrence encore (or slight, depending on your point of view) in perspective.
And those new hours are exceptional. The true stories – supported by fantastic historical footage – contained in this collection's documentaries rightly outshine the fictional adventures of young Indy. There really isn't a dog in the bunch, so personal interests and curiosities would best serve as guiding lights for those in need of truncating their Indy time.
Among the highlights is The Somme – Storm of Steel. It was the first time moving pictures documented a war. Stories of young men's enthusiasm going to war in a naïve spirit of play is countered by the faces of the lost and scenes of men fighting in trenches that turned into open graveyards.
Incredible biographical stories are found in Anthony Fokker – The Flying Dutchman, Franz Kafka's Dark Truth, and Flirting with Danger – The Fantasy of Mata Hari.
Additionally, the documentaries on Disc 3, covering Paul von Lettow-Vorbeck, Frederick Selous, and Jan Smuts, collectively paint a unique picture of a far different war being fought in Africa. While honor and gallantry collapsed amidst the butchery of Verdun and the Somme, those traits ultimately breathed their last in Africa. Even after the war, Smuts kept in touch with – and helped alleviate the ill fortunes of – his battlefield nemesis, von Lettow-Vorbeck.
In addition to the usual parade of academic experts, the documentaries include comments from Mohandas Gandhi's grandson and Albert Schweitzer's daughter. On an odd note, Morgan Spurlock (the guy behind the documentary Super Size Me and a curious little documentary about the power of marketing set in the Czech Republic) offers up his insights regarding Franz Kafka.
As on Volume One, H.W. Brands, Professor of History at the University of Texas at Austin, is back with his quirky mannerisms for another "capstone" class, this time an hour-long lecture entitled War and Revolution. Disc 9 also includes the same interactive timeline and journal found on Volume One.
Completing the package, Special Delivery is a DVD-ROM game set around Indy's adventures in the Congo. Like the interactive game on Volume One, the game mixes trivia questions with other game play elements, including a very easy "shoot out" on the Congo battlefield. As before, it's a bit tedious for any but the youngest of young Indy fans.
Picture and Sound
There is a very intermittent framing problem on the left and right edges of the image, but it's nothing major and certainly nothing that detracts from the enjoyment of the episodes impacted. Aside from that, as on Volume One, the picture quality is stellar with no sign of any unwanted artifacts.
Similarly, the audio is once again well done. But the same gripe as before is worth reiterating: surely George could have remastered the soundtrack to full-blown 5.1 surround.
The set also offers optional English subtitles.
How to Use This DVD
Follow young Indy's adventures and, as your interests dictate, check out the related historical documentaries. They are, uniformly, time well spent.
View a full rundown of the set's contents.
• Originally published at MovieHabit.com.