Movies
Marjane Satrapi:
Drawing from Conflict and Comics
Interviewed by Matthew Anderson
Persepolis is a black-and white graphic novel that its creator, Marjane Satrapi, has now adapted into a 2-D, black-and-white, hand-drawn animated movie. Make no mistake about it, though. Satrapi, whose life loosely serves as source material for Persepolis, is far from black-and-white. She's a colorful and outspoken character, one who is effectively in exile from her home country, Iran.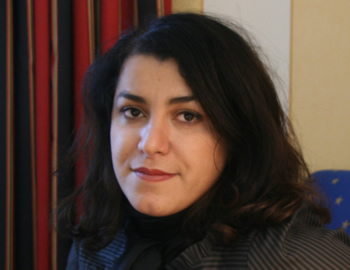 Marjane Satrapi
Persepolis picked up numerous accolades while playing the film festival circuit en route to its theatrical release, including the Krzysztof Kieslowski Award for Best Feature Film at the Starz Denver Film Festival. The wave of enthusiasm for this little movie that could culminated in an Oscar nomination for Best Animated Feature Film, alongside Hollywood heavyweights Ratatouille and Surf's Up.
Satrapi, herself the recipient of the National Board of Review's Freedom of Expression Award, lives up to the hype. Whether it's through her graphic novels, movie, or a one-on-one chat, she doesn't mince words.
Even so, Satrapi started off our conversation with something of a concession. "I'm a very simple person, you know," she matter-of-factly stated. "I like people, I talk to them; I don't like people, I don't talk to them. I'm not very complicated. This makes your life easier, and also the life of other people with you easier. You make people save lots of time."
Given that independent stance, Satrapi also recognized we all have "a big need to be loved by everybody." It's something she recalls being particularly sensitive to when she was 20.
Finally, she asked herself, "Do I like everybody? No. Of course not. Why should everybody like me?"
After moving into an artists' studio, a place in Paris she shared with other artists and cartoonists, Satrapi's first impressions of co-director Vincent Paronnaud were anything but likeable.
"We were not very good friends at the beginning," Satrapi said. "Because when he came into the studio, he was very shy. And I talk a lot. So we misunderstood each other. You know, I hated him; I thought he was such an asshole. He thought that I was crazy, that I was this crazy chick, talking, talking, talking. And I was like, this is an asshole, this guy is a bad asshole.
"There was one day I was sitting in this café outside of my studio and he came. And I was like, 'Shit, now I have to invite him for a coffee.' That was the first time that both of us, we sat. And we started talking. And I was like, he's so cool. And since then we became best friends."
Adapting Persepolis
At first, Satrapi balked at the notion of putting her graphic novel on film, rattling off a list of criteria she would require in order to pique her interest. "I had a friend who wanted to become a producer. So he was saying, 'What about making this movie, blah, blah, blah.' And I was like, 'No, this is a very bad idea. We should never make an adaptation of the comic.' I always thought so. But I don't know, I mean, I thought if I want to make an animation, I want to make it in black and white, I want this, I want that, I want Catherine Deneuve. And he said, 'OK, go with it.' And then I had to make it."
Going after the esteemed Parisian actress to lend her voice as Marjane's mother would, at first blush, seem like a pie-in-the-sky demand intended to undermine the film's prospects. But that's not the case; Satrapi had already read interviews with Deneuve in which she commented on how she liked her books. For that matter, Chiara Mastroianni, who gives voice to the post-adolescent Marjane, is Deneuve's real-life daughter. What's more, Danielle Darrieux, cast as Marjane's grandmother, had already played Deneuve's mother in four other movies, including L' Hommes a Femmes back in 1960.
Satrapi bristled at comments that the book was "transferred" into a movie. It wasn't a simple matter of filming one frame after the other. "Comics and films, they look like they are brother and sister," noted Satrapi. "They are not."
After rereading the two volumes that comprise Persepolis, Satrapi and Paronnaud set them aside and forgot about them.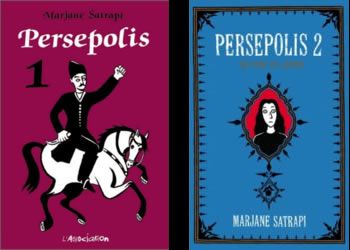 The books that started it all
"You cannot put 16 years in a one-a-half-hour movie or you have five movies in one, and this is a disaster," Satrapi explained. "So you have to have a nexus, you have to have a turning point. At the time we started making the movie, I was in a very nostalgic time in my life. The whole construction of the movie is in a flashback; this is this woman who goes to Orly airport to go back to her country. She cannot, so she sits in this airport and she remembers her whole life. OK. This is it. The turning point of the story is the exile. Everything brings to this exile and this exile justifies exactly what happens next. So that is the whole structure."
With that framework set, the choices became more obvious. In Satrapi's view, the problem with most biographical movies is that the filmmakers want to say everything, but you cannot. Citing one notable exception, Satrapi cited Martin Scorsese's Goodfellas as a great example of a movie that skillfully told a story spanning 25 years.
"I am not making a documentary about my life. This is just a story based on my own experience and this is the big difference. If people want to have the reality show, they have to go and search in the life of Paris Hilton or Nicole Richie. I am not this kind of chick."
While true stories and incidents pepper the books and the movie, audiences should not interpret the material as purely autobiographical.
Yes, Mom and Dad did smuggle Iron Maiden and Kim Wilde posters, but to say more would be to say too much. "I'm not here, you know, to tell what is the truth," Satrapi said.
"The reason I put it in my name is because I didn't want it to become a political or sociological or historical statement, like, oh, 'Here I am, the person who is telling that.' I just put it in my name so that everyone would remember that it is a very personal, individual point of view and it doesn't go beyond that."
Hollywood Calling
Satrapi and Paronnaud come from the world of underground comics, where people are used to not getting paid. In Satrapi's view, she merely had the good luck of a writing a book that worked and that went on to sell more than 1.5 million copies. But, not one to forget her roots, she was able to bring on to the movie project many of her friends.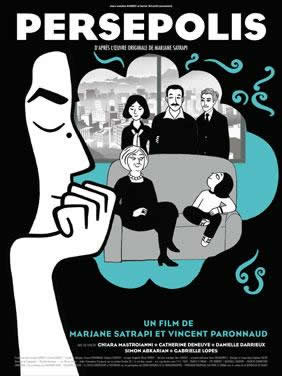 That luck spread from France and crossed the globe as Persepolis gained international recognition. The work even caught the eye of mega-producer Kathleen Kennedy, who wanted to buy the film rights, but Satrapi and Paronnaud were already in production.
Undeterred, Kennedy, best known for producing many of Steven Spielberg's movies, including Schindler's List, Jurassic Park, and the forthcoming Indiana Jones and the Kingdom of the Crystal Skull, still wanted to support this small-scale production.
"Kathleen Kennedy and her husband (Frank Marshall), they are really, I think, the nicest people of Hollywood," Satrapi said. "They are just great people because they have been co-producing these movies of Spielberg and this big stuff, but at the same time she is a person who loves movies. Not just the movie industry, but the movie as an art. She was convinced by our script, she was convinced by the way we were working; she was extremely supportive from the beginning. She was the one who introduced us to the people of Sony Classics."
As a result, Sony Classics supplied somewhere around $1 million of the movie's $8 million budget.
"Movies are not about money," Satrapi clarified. "Of course, you need money to make a movie, but it is not because you have lots of money that you would make a good movie. It's how convinced you are, how much quality you want. But, also, I hate the idea that you can just film any crap any how and say 'this is independent, so it's good.' No. You have to make a good movie; you have to be aware of how you frame the thing, you have to be aware of the movement of the camera, you have to be aware of the rhythm, you have to be aware of the music, etc."