Movies

Bale's Oscar collection BEGINS?
Thursday, November 3, 2005, 12:00 AM CENTRAL TIME
© Copyright 2005 Matthew Anderson and BATMAN-ON-FILM. All rights reserved.
Not since Harrison Ford first slipped into his fedora and leather jacket as Indiana Jones has an actor been so deserving of an Oscar nomination for his starring role in an action movie. This time around, that actor is Christian Bale, who made obsolete all the prior incarnations of Bruce Wayne in this year's Batman Begins.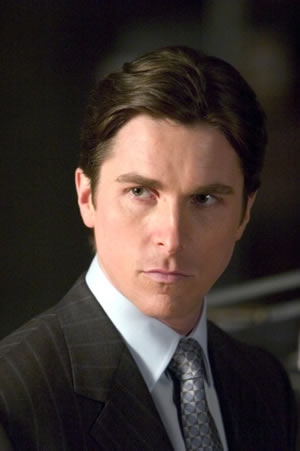 Among the criteria for any actor taking home the gold is the ability to bring to life – and make believable – the character they are portraying. To that end, Bale wins in spades, without a joker in the deck.
This Bruce Wayne's a wayward, conflicted Princeton student, struggling with his parents' murder. He's also a gaunt hooligan learning the thought patterns of criminals while living on the streets and trotting the globe in areas least likely to pick up on the identity of Gotham's most famous billionaire. He's also an astute businessman, ladies man, and, yes, a caped crusader.
That's quite a lot to pull off, but Bale does it handily. No longer is Bruce Wayne a stiff bore, an affectation that stifled portrayals by Val Kilmer and George Clooney. Now he's a man wronged who is channeling his vengeful energies into positive change, oftentimes at the expense of a "normal" high society social life. This Wayne can dial it up when the paparazzi demand it, then turn around and have his heart go aflutter over a chance encounter with his childhood sweetheart.
Prior to taking on the cape and cowl, Bale lost a third of his weight and dropped down to 120 pounds for The Machinist, in which he played a man haunted by his past and suffering from a severe case of insomnia. When he rebounded to 220 for Batman, the actor recalls being chided for gaining the wrong kind of bulk and becoming Fatman instead of Batman. Back to the gym he went.
That's a level of dedication – and range – scarcely seen since young De Niro did his best work with Scorsese. Bale literally puts his mind and body into his characters.
In American Psycho, Bale went batty in a totally different sense; he turned a caricature of Wall Street's narcissistic ways into a chillingly believable nut who, ultimately, can get away with murder but finds something even more punishing: he can't get away with confessing his crimes.
A child actor who got his big break in the early going with a starring role in Steven Spielberg's Empire of the Sun, Bale has become the kind of actor who can make even middle-of-the-road fare like Equilibrium compellingly watchable.
As for the competition, the strongest winds of hype surround two actors and their portrayal of historic figures. Philip Seymour Hoffman recreates Truman Capote's eerie nasal voice in Capote and, at the other end of the vocal spectrum, Joaquin Phoenix becomes another deep-throated Man in Black, Johnny Cash, in Walk the Line.
Other possibilities include Sean Penn as Willie Stark in the remake of All the King's Men, but his win for Mystic River might be too recent for a repeat trip down the aisle. Good buzz also abounds for Brokeback Mountain, which offers breakout roles for its stars, Heath Ledger and Jake Gyllenhaal, but it might not be enough for them to get a nod from Oscar.
In the holiday season mix, more big names, figuratively and literally, are found in the movie-turned-musical-turned-movie The Producers and Peter Jackson's super-sized remake of King Kong; there's also plenty of chatter about Steven Spielberg's Munich. However, whether any of the performances in these highly anticipated releases are Oscar worthy remains to be seen. Maybe Bale's best competition will come from Bale himself when he co-stars with Colin Farrell in the Christmas release of Terrence Malice's The New World.
Taking a look at the winners from the past few years doesn't give a clear indication of the Academy's preferences. Russell Crowe won for the big-budget epic Gladiator, but so did Adrien Brody in a much more modest production, The Pianist.
Of course, every once in a while there's the no-brainer, such as last year with Jamie Foxx winning for his impeccable portrayal of Ray Charles.
But, with no clear-cut frontrunner being bandied about by the likes of the Weinstein brothers, perhaps this will be the year for Bale and the Batman; they're more than worthy of the Academy's consideration. Besides, it would make for great cocktail conversations in Tinseltown if the lineup of nominees included Bruce Wayne, Truman Capote, and Johnny Cash.
• Originally published at Batman on Film.